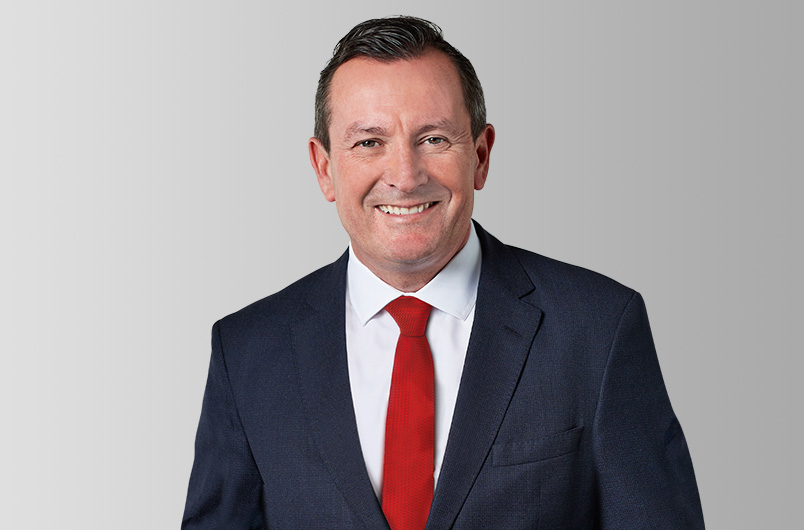 Biography
​For Hon Mark McGowan BA LLB MLA
Premier; Treasurer; Minister for Public Sector Management; Federal-State Relations
The Honourable Mark McGowan MLA is the Premier and Treasurer of Western Australia.
Since 2017, Mr McGowan has secured a fair share of the GST for Western Australia, led the passage of Voluntary Assisted Dying laws, turned the State's finances around with strong budget management, delivered the construction of METRONET and is presently steering the State through the COVID-19 pandemic.
His WA Labor Government has driven job-creating initiatives such Infrastructure WA, delivering a new approach to long term planning and a pipeline of major infrastructure projects for the State, WA Industry Link, which gives local businesses better opportunities to tender for government work, and made TAFE affordable again for Western Australians.
The McGowan Labor Government has also delivered significant reforms to the State economy, including landmark reforms to the state's planning and liquor laws, and returned railcar manufacturing to Western Australia for the first time in thirty years.
Born in 1967 to his wool classer father Dennis and public school teacher mother Mary, in regional New South Wales, Mark McGowan's parents taught him the importance of hard work and compassion. He studied Arts and Law at the University of Queensland, before joining the Royal Australian Navy and driving across the Nullarbor to Western Australia, serving as a Lieutenant at HMAS STIRLING in Rockingham.
Elected to the Legislative Assembly in 1996 representing the state seat of Rockingham, Mark McGowan served as a Minister in the Gallop and Carpenter Governments, and was subsequently elected Leader of the WA Labor Party in 2012, a role he has now served in for over nine years, through three state elections.
Mr McGowan is currently serving his second term as the 30th Premier of Western Australia. He is also the Treasurer and Minister responsible for Public Sector Management and Federal-State Relations.
Mark McGowan still lives in Rockingham, where he met his wife Sarah and they are raising their three children – Samuel, Alexander and Amelia.
Mr McGowan was awarded a Governor General's Commendation for Brave Conduct for actions he took in 1995 rescuing an unconscious driver from a burning car. He remains a standby member of the Naval Reserves.
---
Departments, agencies and offices under the responsibility of Hon Mark McGowan BA LLB MLA
Premier
Treasurer
Public Sector Management
Federal-State Relations
---
Related Media